If you need to schedule an appointment with us, please give us a call or fill out our appointment request form. We appreciate your patience as we continue to adapt our polices related to COVID-19 and look forward to seeing you soon.
LEARN MORE ABOUT OUR FEATURED SPECIALS BELOW: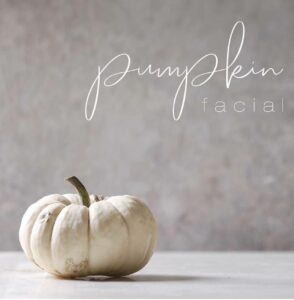 Seasonal Pumpkin Facial | 45 minutes: $85
We love this time of year, pumpkin everything!
Whether you're combating the signs of aging, dealing with pigmentation issues, having some fall breakouts, heavy oil production…you name it, pumpkin covers it all. Pumpkin boosts collagen, protects from free radicals and fights acne with its high content of zinc & potassium. Pumpkin helps to combat redness, reduces inflammation, brightens dull skin, helps to fade hyperpigmentation and so much more. Treat yourself to our signature fall facial!
Holiday Bliss Package | 2.5 hours: $195

25 Minute Steam Bath with Peppermint Oil

60 Minute Hot Stone Massage

45 Minute Hot or Cold Stone Facial

15 Minute Reflexology

Queen for a Day Package | 2.5 hours: $180
Sea Salt Body Scrub
60 Minute Therapeutic Massage
Customizable Facial
Winter Revitalize Package | 2.5 hours: $185
Hydrating Body Polish
Hot Stone Massage (60 minutes)
Healing Touch Refresher Facial
Relax Package | 2 hours and 15 minutes: $169
50 Minute Signature Massage
Walk On Water Foot Relief
Healing Touch Refresher Facial
Rejuvenate Package | 2.5 hours: $179
80 Minute Deep Pore Cleansing Facial
25 Minute Reflexology
Silky Hand Splendor
Sea Salt Body Scrub
Revitalize Package | 2.5 hours: $189
Eucalyptus Steam Bath
90 Minute Therapeutic Massage
Silky Hand Splendor
15 Minute Reflexology or Head & Scalp Massage
Couples Reconnect Package | 1.5 hours: $290
6o Minute Customizable Couples Massage
Walk On Water Foot Relief
Fruit and Beverage (Sparkling Non-Alcoholic Cider and Seasonal Fruit)
Escape Package | 2 hours and 15 minutes: $170
Sea Salt Body Scrub
60 Minute Relax Rejuvenate Revitalize Sampler
Healing Touch Refresher Facial
Full Body Pick Me Up Package | 2.5 hours: $199
30 Minute Therapeutic Massage
Phyto Fermete Wrap (Body Lifting and Firming)
O2 Lift Facial
Hot Stone Package | 2 hours: $165
60 Minute Hot Stone Massage
45 Minute Hot Stone Facial
15 Minute Reflexology or 15 Minute Head/Scalp Massage
Hydration Package | 2.5 hours: $165
Hydrating Body Polish
Hydralessence Facial
Silky Hand Splendor
PLEASE NOTE: Advance appointments required for all spa packages | No substitutions or changes allowed to spa packages | Spa packages are subject to change